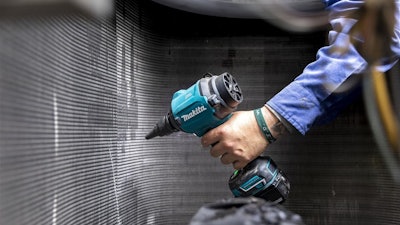 Makita U.S.A., Inc. (La Mirada, CA), manufacturer of high-quality professional tools and accessories, has released the 18V LXT High Speed Blower/Inflator, Tool Only (XSA01Z). The XSA01Z is part of the LXT System with 325+ solutions in 2023 that are all powered by the same fast charging 18V LXT batteries.
The Blower/Inflator is a versatile tool that can both inflate and deflate with precision, as well as clear debris and dust from work surfaces and tools. It features a Makita-built brushless motor that delivers up to 447 MPH and 39 CFM. With 5 included nozzles and 4 digitally controlled speeds, the Blower/Inflator has a wide range of applications. It provides continuous operation of up to 55 minutes with a fully charged 18V LXT 6.0Ah battery (battery not included).
The Blower/Inflator features a rubberized soft grip that provides increased comfort on the job. With a compact design, it is ideal for working in tight spaces with an overall length of just 7". It features an in-line fan design that provides better tool balance and improved ergonomics. It also features a filter on the blower intake that reduces dust being blown through the blower.