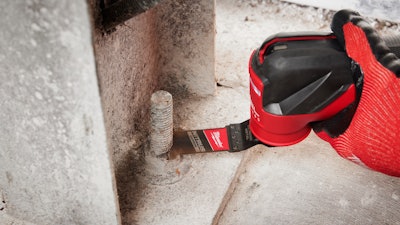 Milwaukee Tool (Milwaukee, WI) continues to raise the bar in life and speed with new NITRUS CARBIDE Oscillating Multi-Tool Blades that provide over 2X faster cuts and 2X longer life than traditional carbide teeth products. Available in Extreme Metal and Extreme Material options, the new blades will join the NITRUS CARBIDE family of products.
The NITRUS CARBIDE Extreme Metal blade will cut more bolts, screws and nails than ever before. The NITRUS CARBIDE Extreme Material blade delivers the fastest, most versatile cuts in more materials like screw-embedded wood, cement board, plaster, drywall and more. Both NITRUS CARBIDE multi-tool blades have an optimized blade length, tooth design and unique carbide blend for greater cutting capabilities.
Complete with a newly designed Universal Fit OPEN-LOK anchor, the new blades are strengthened and reinforced to provide reduced vibration and better control while cutting. The new anchor maximizes tool-to-blade power transfer through secure connection and improved design. In addition, the open-back design maintains the ability to fit on over 100+ multi-tools, and allows for quick blade changes.
www.milwaukeetool.com, 800-SAWDUST