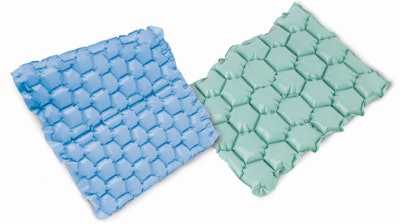 Automated Packaging Systems (Streetsboro, OH) has introduced a new AirPouch FastWrap cushioning wrap that is high loft and 24 inches wide. This new, extra wide version of inflate-on-demand protective packaging material is ideal for large products shipping in large boxes, where both protection and void-fill are important. Features include:
A patented honeycomb pattern that supports multi-directional wrapping for optimal protection. The 1.25-inch high loft coupled with the 24-inch width makes wrapping large products easier while using less material.
Perforations placed every 6.75 inches, enabling packers to use just the right amount of product to avoid waste.
A pre-formed, inflate-on-demand material design, for reducing shipping and storage costs when compared to pre-filled bundle bubble material.

Availability in clear LLDPE, as well as EarthAware recycled and biodegradable blends. Custom colors for all FastWrap sizes are also available.
The new 24-inch wide material comes 1,300 linear feet per box and offers 66 percent more void-fill space than standard protective packaging materials.
www.autobag.com/protective-packaging/wrapping-solutions; 330-342-2000