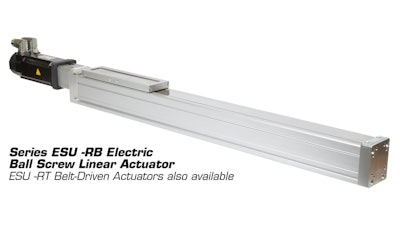 PHD (Fort Wayne, IN) has introduced the new Series ESU Electric Ball Screw Linear Actuator. The new design features a robust, enclosed design with a high capacity rail bearing system delivering exceptional moment and load capability. Available in three sizes, with travels lengths up to 1,000 mm and speeds to 3,200 mm/s these (along with the ESU-RT Belt-Driven actuators) can be combined to create virtually any system to meet your Cartesian robot needs. Other key features include:

Optional dual saddle version.

Proven magnetic band seal providing IP54 protection.

Precision ball screw assembly providing superior performance.

www.phdinc.com; 800-624-8511