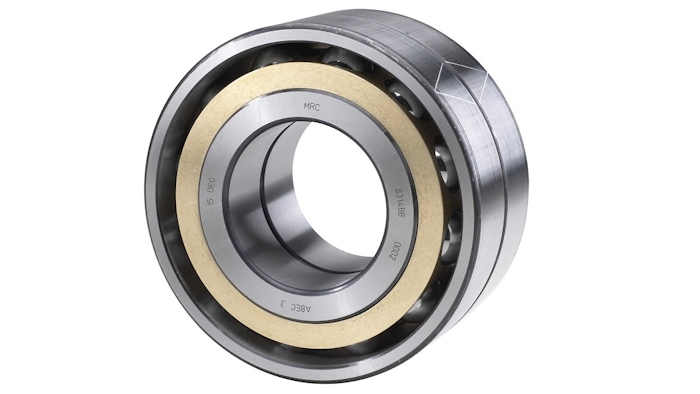 SKF
The MRC PumPac series of angular contact ball bearing arrangements from SKF (Lansdale, PA) integrate optimized internal designs and uniquely engineered contact angles to reduce operating temperatures and vibration while helping to prevent ball sliding and shuttling in demanding pump applications. Features include:
Combinations of 40º and 15º bearing contact angles capable of carrying high thrust loads with the 40º bearing without unloading the opposed 15º bearing. 

Machined brass cages exhibiting high resistance to wear even in poor lubrication conditions.

CB axial clearance for enhanced ball control and reduced heat generation.

ABEC-3 tolerances contributing to less impeller shaft run-out and longer seal life.

Special heat treatment for dimensional stability

"V" etched outer diameter to enable simplified installation by clearly indicating the direction of thrust-carrying capability.
The PumPac family of bearing arrangements includes:
The 8000 Series (one 40º bearing mounted back-to-back with one 15º bearing) for applications subject to thrust loads while operating at high speeds.

The 8000BB Diamond Series (two 15º bearings mounted back-to-back) for use when thrust loads are light and radial loads predominate.

The 8000AAB Triplex Series (two tandem mounted 40º bearings matched back-to-back with one 15º bearing) for applications with extremely heavy primary thrust loads. 
For more information, visit www.skfusa.com; or call 800-440-4759.