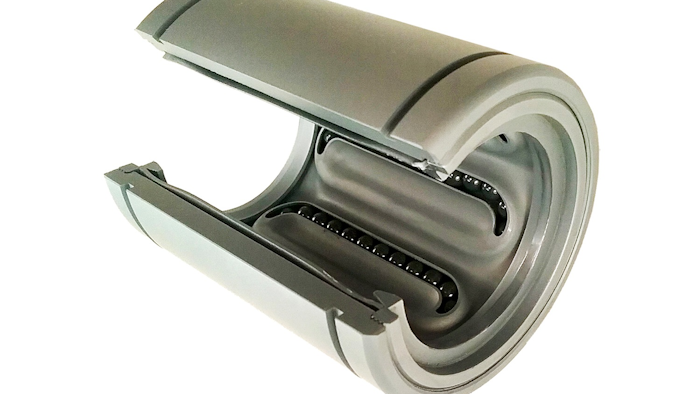 LM76
LM76 (E. Longmeadow, MA) has developed a corrosion-resistant linear bearing. Designed for the harshest environments, Pegasus Series 1 Linear Ball Bearings feature Silicon Nitride (SiNi) Ceramic Balls in a shell with retainer and end caps that are made from 440 Stainless Steel and then coated with Armorloy. Additional features include:
The Silicon Nitride balls are 40% lighter than steel, inert to chemicals, capable of higher speeds and higher loads, maintain a RC78 hardness and FDA compliance.
Balls do not corrode or support electrolysis.
Armoloy TDCTM (Thin Dense Chrome), which is a hard (78Rc), coating with a micro-nodular surface texture.
The coating's nodular finish reduces the amount of surface area in contact with the SiNi balls reducing friction and extending life.
Availability in both closed and open designs, and in 4 sizes (1.000", 1.250", 1.500" and 2.000").
Dynamic load ratings of 1.000" 220 lbs, 1.250" 352 lbs, 1.500" 490 lbs, and 2.000" 858 lbs.
Zero clearance on Class L linear shafting.
For more information, call 413-525-4166, or visit http://www.lm76.com.