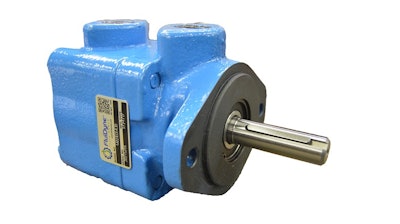 According to Fluidyne (Fraser, MI), its balanced vane motors are not only compact and efficient, but they have the ability to provide variable speed, variable horsepower and constant torque. They also remain undamaged when stalled under load if they are protected by a relief valve. Additional benefits include:
Speeds up to 2200 rpm at maximum pressure.

Availability in shafts 1, 3, 6 and 11.
The design of the diametrically opposed inlet and outlet chambers removes bearing loads resulting from pressure. This type of bearing load is a leading cause of bearing damage in models without this design feature. 
www.fluidynefp.com; 586-296-7200