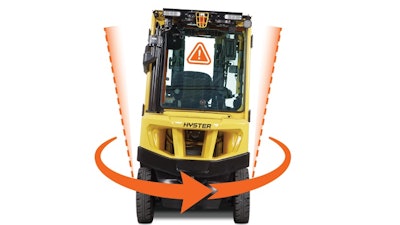 Hyster Company (Greenville, NC) announces the Dynamic Stability System (DSS), engineered to provide automated performance controls and alerts to help reduce the likelihood of forward and sideways forklift tip overs and promote safe operating practices. The innovative system is standard on all H40-70A models in the recently launched Hyster A Series. Specifically:
All DSS sensors are completely maintenance-free and continually monitor forklift performance such as lift height, hydraulic load, mast tilt, truck speed and steer angle.

When the system detects the lift truck exceeding designated stability thresholds, it automatically intervenes with measures to support stable travel.

Four different subsystems help to smoothly decelerate the forklift when traveling around corners and in turns, and to limit truck speed, tilt speed and tilt range when carrying elevated loads.

The operator remains in command of the equipment and receives performance reduction feedback, visual indicators and audible alerts to help reinforce the best practices established in their training.

Integration with Hyster Tracker telemetry monitoring is also available to help supervisors access greater visibility into operator performance through real-time updates each time a DSS function is triggered.