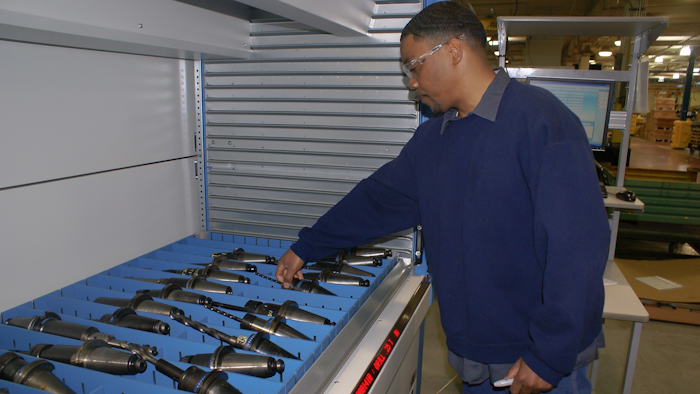 From storing small parts to large, heavy tools, Kardex Remstar (Westbrook, ME) dynamic storage solutions allow an organization the ability to keep inventory all in one place. The Shuttle XP Vertical Lift Module (VLM) integrated with Power Pick Global inventory management software and Pick-to-Light technology will be on display at IMTS 2018, along with demonstrations of the new Remote Support Platform for remote analytics and diagnostics.
The Shuttle XP VLM ranges from light duty storage in the 250 model to heavy duty storage in the Shuttle XP 1000 model, boasting a 2,204 lbs. (1000 kg) capacity per tray. The Shuttle XP 1000 can also be integrated with a crane mounted to the load profile. It can be maneuvered into position in front of the access opening to pick up heavy items from the floor or from a pallet. The Shuttle XP VLM can also be equipped with new Access Ready lights. These lights tell the operator when the tray is in place and ready for picking, making operator training fast and efficient.
There are two features included in the new Remote Support platform. First, Remote Assistance, which manages remote diagnostics, allowing for simple maintenance requests to be performed remotely instead of onsite reducing downtime. Secondly, Remote Analytics, which gives users access to machine data anywhere via a Web Browser. This analysis tool guarantees a high level of process reliability for storage unit operations.
See the product at IMTS booth #431617
www.kardexremstar.com; 800-639-5805