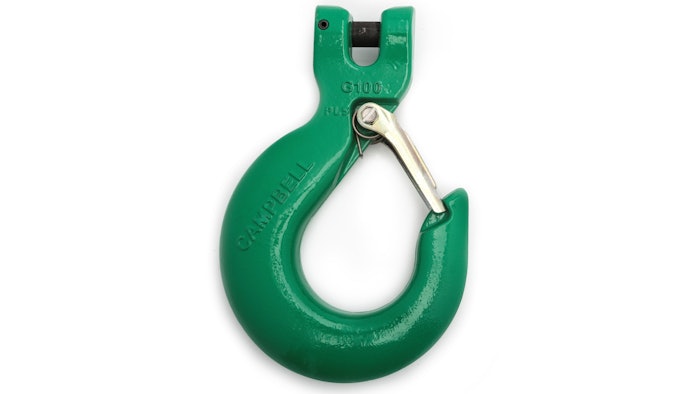 Campbell, a premier brand of chain and fittings from Apex Tool Group (Sparks, MD) has announced its new improved Grade 100 Alloy Sling Hooks. The new green-painted hooks are available in both clevis and eye styles and are made for use with Grade 80 and Grade 100 chain slings. Latched models feature a new heavy-duty latch and spring assembly. The new latch and spring assembly is designed for exceptional durability. Features include:
The heavy-gauge, high-strength steel latch with reinforcing rib, providing ultimate rigidity and bending resistance.
A yellow chromate finish for corrosion resistance.
The double-strength spring, which ensures the latch is held against the hook to securely retain slings and other components.
Dual forged support bosses, for added durability, providing lateral support for precise latch/hook alignment and engagement.
With a 4:1 design factor, the new Alloy Sling Hooks meet or exceed the requirements of ASME B30.9 and B30.10. The working load limit ranges from 5,700 lbs. to 35,300 lbs.
www.campbellchainandfittings.com; 800-447-6326