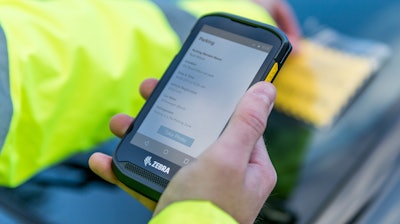 Zebra Technologies Corporation (Lincolnshire, IL) has announced the launch of the TC25: a new rugged smartphone specifically designed for small- and medium-sized businesses (SMBs). The TC25 empowers field mobility workers to scan barcodes on parts, manage routes and complete invoices on the spot. The device's durable exterior and powerful battery allow it to work the entire day, with a powerful onboard processor that runs the latest enterprise-class applications for job tracking, navigation and messaging. Additional features include:
Durability: The TC25 is designed to withstand heat and cold, dusty environments and accidental drops, reducing costly repairs while ensuring longer, more productive use.
Scanning as it should be: The TC25 delivers Zebra 2D barcode scanning technology that can accurately capture barcode information, even where labels are faded, damaged or dirty.
Effortless data capture and share: Zebra's DataWedge is pre-installed on all TC25 devices, allowing businesses to send barcode data to their existing apps with no additional time required for additional programming.
Longer lifespan: With Zebra OneCare SV for the TC25 and LifeGuard for Android support, extended security updates ensure the security of the operating system at all times over the lifespan of the TC25.
Easier collaboration: Zebra's Workforce Connect PTT Pro voice solution gives the TC25 walkie-talkie functionality, enabling instant PTT (Push-to-talk) calls between the TC25s and other compatible Zebra mobile devices, iPhones, iPads and select Android smartphones.
Power that lasts all shift: A complete range of accessories is provided which includes a hand strap, holster, snap-on power pack to support continuous use and a snap-on trigger handle which allows staff to use the TC25 for a wide range of tasks with reduced strain and improved efficiency. Ultra-versatile charging cradles enable the charging of multiple devices and power packs at once.
www.zebra.com; 866-230-9494