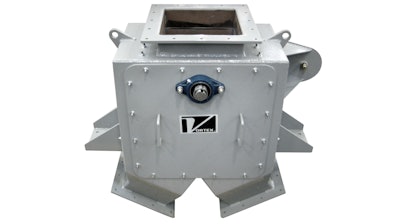 Vortex
Vortex's (Salina, KS) Titan Series product line addresses several abrasion concerns expressed across bulk material handling industries. The Pivoting Chute Diverter is designed to handle especially abrasive materials, such as alumina, bauxite, cement, glass, metals and wood. The Pivoting Chute Diverter is designed to improve processing speeds and provide a valve with longevity when operating in particularly wearing environments. Features include:
A carbon steel construction.
An independent, internal pivoting chute.
Wetted parts lined with abrasion-resistant metal.
A dust-tight design.
Inspection, maintenance or repairs performed while the diverter remains in-line.
A removable chute.
Material flow may be directed partially toward two different destinations at once.
Availability in two-way or three-way configurations.
For more information, visit http://www.vortexglobal.com/pivoting-chute-diverter/.