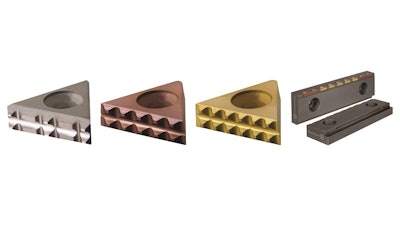 Fixtureworks (Fraser, MI) now offers a line of low-profile inserts called GripSerts. These grippers are made to grip steel workpieces. With only 3.5 mm of clamp surface needed to securely hold the workpiece, TG GripSerts workholding grippers are ideal for 5-axis machining operations. Because of the geometry of the grippers, the inserts create a pull-down effect that prevents any lifting of the workpiece while clamping. These durable inserts combine a tough-coated cemented carbide with specialized teeth and triangular shapes that are uniquely designed to penetrate steel.
TG GripSerts workholding inserts offer many advantages over traditional clamping systems. Specifically:
Their special triangular shape with a 5° tapering and teeth geometry combine to provide exceptional clamping stability with no need for pre-machining or dovetailing workpieces.

They are designed to absorb and dampen vibrations, providing secure and stable holding at lower clamping forces which prevents deformation of the workpiece. This results in a higher cutting rate and less waste of materials than traditional clamping systems.

TG GripSert carbide gripper inserts are designed for ultra-low profile 0.14 in. (3.25 mm).

These durable inserts can penetrate materials including steel, hardened steel/titanium (up to 50-54 HRC) as well as aluminum.
www.fixtureworks.com, 888-794-8687