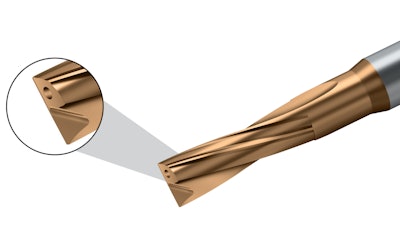 Walter (Greer, SC) has introduced the DC118 Supreme solid carbide drill, a new performance class for challenging applications.
These "180° drills" differ from standard solid carbide drills in many ways, including:
The high rigidity they provide against deflection.

Superior centering accuracy.

Having four margins with corner chamfers, which enable excellent guidance in challenging applications.
The 180°-point angle makes the DC118 Supreme ideal for plunging into inclined or round surfaces because the drill is guided quickly on the margins and centered accurately. At the same time, burr formation remains extremely low. The protective corner chamfer on the cutting edges protects against rapid wear, which significantly increases tool life compared to drills without a protective chamfer. The excellent rigidity of the drill is a third feature which sets it apart from the competition.