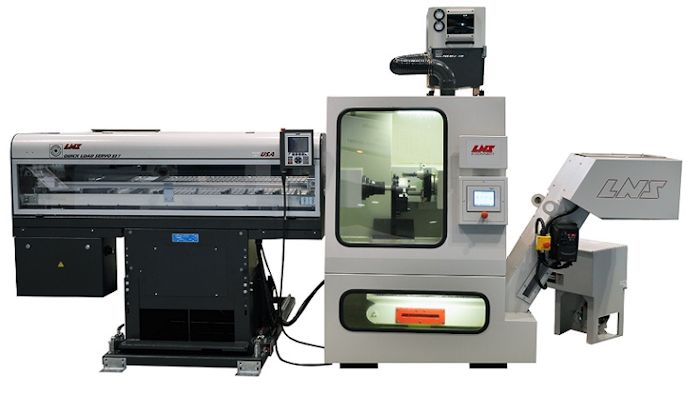 LNS (Cincinnati, OH) plans to display a broad assortment of bar feeders along with chip conveyors, air filtration systems, workholding devices, coolant systems and the e-Connect Ethernet Communications System at IMTS 2018. A centerpiece of the booth is a simulated work cell displaying:
Quick Load Servo S3 T spindle-length, automatic, magazine bar feeder for fixed or sliding headstock machines. Accommodates bar diameters from ¼" to 4 – ¾" and has an intuitive, touch screen HMI that enables partial changeovers in 15 seconds or less and complete changeovers in 1 minute or less.
MH Series Filtering Chip Conveyor. Filters coolant to 250 or 500 microns using continuously self-cleaning, patented filter boxes.
LNS Fox Oil/Coolant Mist Collectors. Exceed OSHA and NIOSH requirements while eliminating oil/coolant mist, smoke and other fine aerosols and particulates.
Steady Rest-Based Workholding System. For machining long workpieces needing extra support, and for performing secondary operations on the end of a workpiece without engaging a tailstock.
Blaze Air Vacuum Unloader. Automatically removes parts within 2 to 3 seconds through the back of the secondary spindle after both ends have been machined.
PhaSep Waste Oil Removal System. Uses a unique floating pick-up to skim waste oil and coolant mix from the top of the machine sump. Oil droplets as small as 20 microns are separated from the coolant and rise to the top of the PhaSep unit. When the oil layer builds up sufficiently in the unit, it passes over a specially-designed weir, and is trapped away from the clean coolant. The oil can then be removed periodically through the waste oil drain. Coolant, cleaned of 99% of contaminated oil, is returned directly to the machine sump.
e-Connect Ethernet Communications System.

 

LNS Systems Software and Control Manager will present live, in-booth and real-time remote monitoring demonstrations of the e-Connect Ethernet communications system.
See the product at IMTS booth #338586
www.LNS-america.com; 513-528-5674