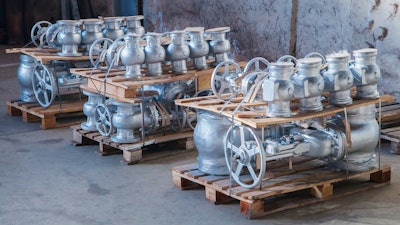 Cortec (White Bear Lake, MN) announced the EcoShield 386 FD Water Based Micro Corrosion Inhibiting Coating is a force-dry version of Cortec's topwater-based anticorrosion coating, EcoShield VpCI-386.
EcoShield 386 FD offers corrosion protection at 1.5-3.0 mils (37.5-75 µm) DFT (dry film thickness). EcoShield 386 FD force-dries in 5-10 minutes at 150 °F (54 °C) and has good hot hardness, which keeps the hot coated parts from sticking together before they can cool down.
Many pipes, hooks, castings, equipment components and other metal parts need to be coated during production in preparation for their final installation. But the painted parts often pile up or are bundled together at the end of the line while the coating is hot and sticky.
EcoShield 386 FD reduces this risk of parts adhering to each other and damaging the coating when the components are later pulled apart.
EcoShield 386 FD is an alternative to solvent-based coatings, which often have high VOCs and are more difficult to clean up.
As a water-based coating with only 0.6lbs/gal (72 g/L) of VOC, EcoShield® 386 FD offers easier cleanup than many traditional protective coatings.
EcoShield 386 FD has UV resistance, making it acceptable for components (e.g., heavy equipment parts or pipes) that will be stored or used outdoors).
EcoShield 386 FD can be used clear or matched to most custom colors, providing a solution for OEMs that have to make the coating inconspicuous or fit in with a specific color scheme.