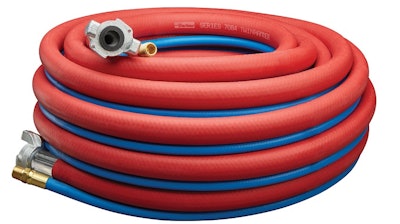 The Industrial Hose Division of Parker Hannifin Corporation (Cleveland, OH) has launched a new hose system designed to assist those who employ jackhammer and breaker operators to easily, effectively and safely comply with a new OSHA Respirable Crystalline Silica (RCS) standard. The Parker Twinhammer hose is the first factory-assembled dual hose system that delivers both air and water in a single, bonded twin-line configuration for dust suppression in heavy duty pneumatic jackhammer applications. Features include:
Durable, chemically bonded and abrasion resistant lines that enable efficient installation and kink-resistant handling that easily negotiates debris and obstacles, eliminating the need for intrusive clamps, straps, tape or other devices to join distinct air and water hoses.
Maintenance-free permanent crimped universal fittings for easy connection/disconnection to the air supply, and rust-resistant brass male NPT couplings for attachment to the water supply and spray apparatus.
The ability to concurrently transfer air to power heavy duty pneumatic jackhammers, transfer water to suppress silica dust produced by tool operation and help create a safer and more efficient work environment.
Parker has also introduced a hose spray kit to transfer water from the supply hose to the jackhammer tool bit. The kit provides efficient and consistent water angle, distance, flow and spray pattern for effective silica dust control.
www.parker.com; 440-833-2120