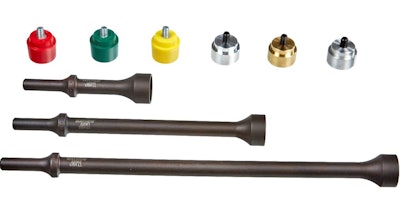 Mayhew Steel Products, Inc. (Turner Falls, MA) introduces a new 9 Piece Pneumatic Replaceable Tip Hammer Set, part number 32026. This set includes three replaceable tip hammer lengths, including 4 ¼", 8" and 12", for pneumatic zips guns. Providing three size options, this set allows for safe and easy access in close quarters or long reach applications. Specifically:
This set includes six interchangeable tips: Three metal tip options - steel, brass, and aluminum and three plastic tip options- soft plastic, medium plastic/ vinyl, and hard plastic/ nylon.

All tips have a quick-change, threaded replaceable tip design in order to save the user time and allow for worn out or damaged tips to be easily changed.

These tips are made with materials that reduce damage to the working piece, are non-marring, and non-sparking on specific surfaces and during specific usage.

Each tool in this set is proudly made in the USA and the three replaceable tip hammers are backed by a lifetime warranty. This set also conveniently comes in an accessible case for tool protection and storage.



www.mayhew.com; 800-872-0037