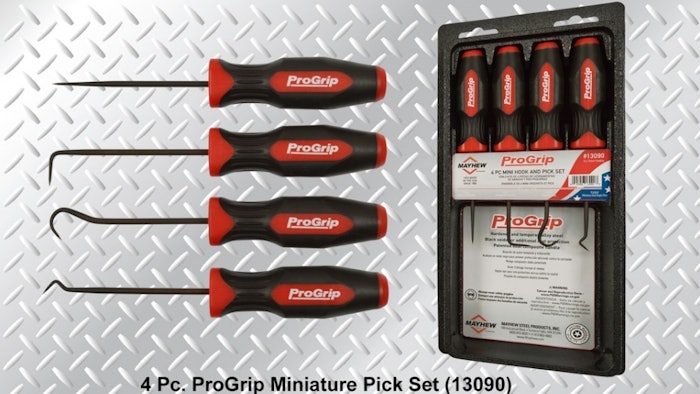 Mayhew Steel Products (Turners Falls, MA) announces the launch of a new ProGrip Hook and Pick product line. The new line, featuring Mayhew's signature ProGrip handle, includes over 30 unique hooks and picks and 11 convenient sets, from miniature to heavy-duty, or extra-long. All of the tools, including marking and hole-making picks, O-ring picks, trim tools, and hose picks, consist of an alloy steel shank with black oxide finish to deter rust and are made in the USA. Other features include:
An ergonomic handle, made of highly-resilient Polypropylene with an over-molded Thermoplastic Elastomer soft grip, with two patented ribs around its neck to allow for maximum transfer of torque from the hand to the tool and a slip-free grip when pushing or prying.
A rounded end that rolls smoothly onto the heel of the palm, reducing friction and hand fatigue.
A design that facilitates easy access into tight spaces and provides necessary leverage in close-quarters to position, retrieve, remove parts or easily maneuver around obstacles that otherwise would be troublesome.
www.mayhew.com; 800-872-0037