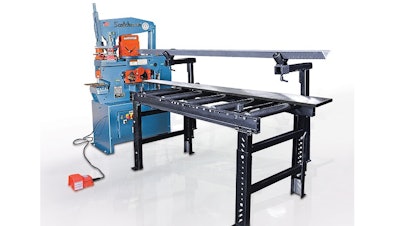 The 5014-ET hydraulic ironworker from Scotchman Industries (Philip, SD) is a single operator design with 7 total stations. It features 50 tons of pressure and has the ability to punch a 13/16″ hole in a 3/4″ plate. The ironworker comes standard with an angle shear capable of shearing 4″ x 4″ x 3/8″ angle iron, a flat bar shear that can shear 3/4″ x 4″ to 1/4″ x 14″, and rectangle notcher for notching up to 2-1/2″ x 3″ in 5/16″ material. Specifically:
Standard electric stroke control makes the 5014-ET machine very accurate for bending, punching, shearing and notching operations.

A remote foot pedal and punch slug receptacle are additional standard features.

With its component tool table design, the 5015-ET has the ability to accept optional equipment, such as the 12″ press brake, rod shear, square tube shear, picket tools, pipe notcher, greatly expanding the 5014-ET fabricating capabilities.

Custom tooling to meet unique sizes or shapes is also available.
The 5014-ET ironworker is made in the USA, and backed by Scotchman's 3-year warranty.
www.scotchman.com, 800-843-8844