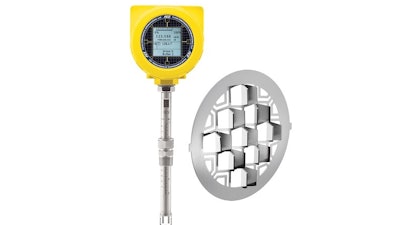 Sophisticated fuel cell technology projects now rely on the precision ST80 Thermal Mass Flow Meters with Vortab (VIP) Flow Conditioners from Fluid Components International (San Marcos, CA) for accurate gas flow measurement to provide clean electric power while reducing or eliminating harmful emissions such as carbon, NOX and SOX that damage the environment.
These advanced thermal mass flow meters coupled with tab-type flow conditioners are helping process and plant engineers support green fuel cell energy initiatives that produce electricity, hydrogen and water. The design and implementation of such projects also helps industrial plant owners benefit from California's Bioenergy Market Adjusting Tariff Program (BioMAT) for reselling excess electricity while allowing them to move closer to zero emissions at their sites.
In such fuel cell projects, the ST80 Flow Meter and VIP Flow Conditioner are installed for the monitoring of multiple fuel cell process applications: (1) fuel gas primary feed; (2) fuel gas pressure relief; (3) deoxidizer relief line flow; (4) cooling tower vent, anode exhaust gas; and (5) fresh air blower discharge flow. VIP flow conditioners are utilized upstream from the meters when less than ideal pipe straight-run conditions could impact overall measurement accuracy.