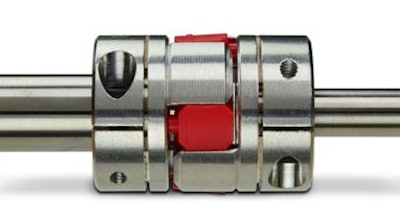 Ruland (Marlborough, MA) zero-backlash jaw couplings are a three-piece assembly designed to accommodate high acceleration and deceleration curves that result in peak torque. Jaw couplings are ideal for systems that experience hard starts, hard stops, or reversals, including in medical, semiconductor, test and measurement and robotics applications. Specifically:
Ruland's balanced jaw coupling design consists of two hubs and an elastomeric insert known as "the spider."

The hubs are machined through a proprietary process that creates a curved jaw profile, enabling a press fit with the spider for zero-backlash operation.

Start and stop applications in servo motor drive systems will often experience high peak torque loads caused by inertia, friction, and high acceleration/deceleration rates.

The spider dampens these impulse loads to minimize shock to the motor and other sensitive components.

Spiders are available in three durometers – 85 Shore A for greatest dampening, 92 Shore A for a balance of dampening, torque and torsional stiffness, and 98 Shore A for a small amount of dampening and the highest torsional torque and stiffness.
Jaw couplings offer a high level of customizability by allowing users to combine clamp and set screw hubs with various bore options, including inch, metric, keyed, and keyless bores, with sizes from 1/8 inch to 1-1/4 inch and 3 mm to 32 mm. They are considered failsafe as the interlocking hubs provide direct power transmission for controlled shutdown if the spider fails. Replacing the spider restores the original performance characteristics of the coupling, significantly reducing maintenance costs when compared to coupling styles that require complete replacement.