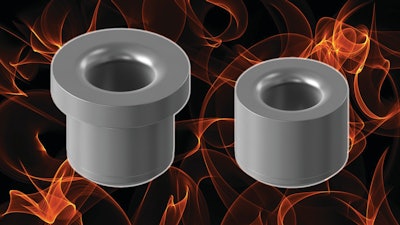 Carr Lane
Carr Lane (St. Louis, MO) has introduced ON-SIZE Bushings that are ideal for fixtures used at temperatures up to 750°F (400°C), such as autoclave curing. The bushings are used with Bullet-Nose Dowels to align two pieces of a fixture. Additional features include:
An Invar construction, which is a 36% nickel-iron alloy that has a low coefficient of thermal expansion.
Applicabilitiy in aerospace as well as other applications where minimum thermal expansion and high dimensional stability are required.
Availability with or without head.
4 sizes, inch or metric.
For more information, visit www.carrlane.com.