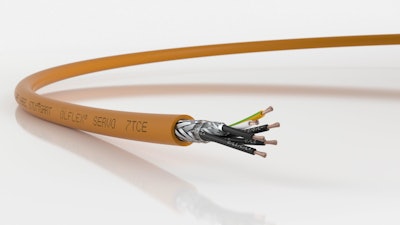 Lapp Group
Lapp Group USA (Florham Park, NJ) has introduced the ÖLFLEX SERVO 7TCE, a highly flexible, oil-resistant servo cable with TC-ER approval. Because it is suitable for use directly on industrial machines and in cable trays, this new cable can eliminate the need for two different kinds of cable or the use of conduit in run. Additional features include:
A specially formulated thermoplastic elastomer (TPE) jacket, as well as cross-linked XLPE insulation that can withstand high temperatures up to 105°C.
UV- and oil-resistance.
Flame retardant, and resistant to harsh cleaning solutions.
A low-capacitance design, enabling long-distance runs with limited losses in current and voltage.
Nominal voltages of 600V (UL TC-ER) and 1,000V (UL Flexible Motor Supply).
A minimum bend radius of 6x cable diameter.
UL TC-ER, c(UL) CIC, CE and RoHS compliance.
Applicability for motor connections between servo controllers and motors on industrial machines, tray applications and moving machine parts, assembly handling and integrated production systems.
For more information, visit http://landing.lappusa.com/.