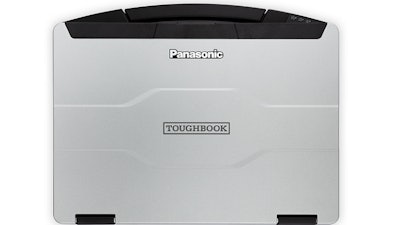 The Panasonic (Newark, NJ) TOUGHBOOK 55 mobile computer is designed for unrivaled flexibility with its modular expansion packs and accessories that can accommodate a multitude of work environments and personal preferences. Unparalleled customization can simplify ordering, shorten lead times, decrease downtime and help futureproof the purchase as work needs change. Often mounted in vehicles and used indoors and outdoors, this latest TOUGHBOOK has the ability to work all day on a fully charged battery, which is among the most critical needs for users out in the field. The TOUGHBOOK 55 has the longest battery life of any Panasonic TOUGHBOOK to date with the ability to 'hot-swap' an optional second battery without powering down or interruptions. Additional innovations include:
An innovative modular design.
The thinnest and lightest laptop in its class.
Latest Intel 8th Gen quad-core i5 and i7 vPro processors and optional AMD discrete graphics.
An optional 1000 nit touchscreen.
Up to 2TB of storage and 64GB of RAM.
The first laptop in its class with tetra-array microphones for unmatched speech recognition accuracy.
The first TOUGHBOOK to offer a USB Type-C port, HDMI 2.0 and Bluetooth 5.0.
Enhanced user experience with louder speakers, enhanced brightness and a color-selectable backlit keyboard.
Backward compatibility with existing TOUGHBOOK 54 vehicle and desktop docks avoiding the hassle and cost of replacing and installing new docks into their fleet of vehicles.
www.na.panasonic.com/us; 877-803-8492