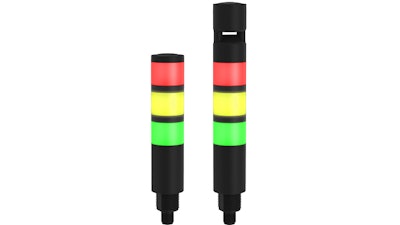 Banner Engineering (Minneapolis, MN) has announced the release of the TL30 Basic Series, compact tower lights for use on small machines and in work areas with limited space. TL30 Basic tower lights have a slim 30 mm cylindrical body that fits in space-constrained areas. Their compact form factor is well suited to smaller machines. In addition, the comfortable light output is ideally suited for applications where staff regularly work in close proximity to the tower light. These multicolor indicators support two to five color segments and an optional audible segment for a total of up to six segments in each tower light. Features include:
A completely self-contained design, requiring no controller for operation, and come fully assembled for rapid deployment in small- or large-scale applications.
Clear, easy-to-see status indication and operator guidance on wire bonders, printing machines, bench tops, tabletop scales, collaborative robots, inspection and testing machines, lab equipment, HMIs and similar small machines and equipment.
The release of the TL30 Basic expands the offering of tower lights available from Banner Engineering to include 30 mm models, in addition to the 50 mm TL50 Series and the 70 mm TL70 Series. Like these tower lights, TL30 Basic tower lights utilize LED lights for a long operational life and have a segmented design with translucent windows that appear gray when off to prevent false indication caused by ambient light.
Click here for more information.
www.bannerengineering.com; 888-3-SENSOR