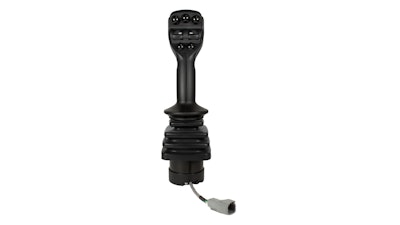 J.R. Merritt Controls
J.R. Merritt Controls (Stratford, CT) announced the release of its newest joystick, the Merritt Evolve.
The Merritt Evolve features:
New performance-driven handle design
Individually configurable front and rear faceplates
Range of standard faceplates, including buttons, thumbwheels and rocker switches
Custom device plates
Contoured shape
Integrated hand rest
Flexibility for left-hand or right-hand mount installations
The Merritt Evolve offers spring return handle action in single or dual-axis operation with different tension options for further application optimization. This new model can be supplied with J1939, CANOpen or a Hall Effect output to integrate with a wide variety of systems.