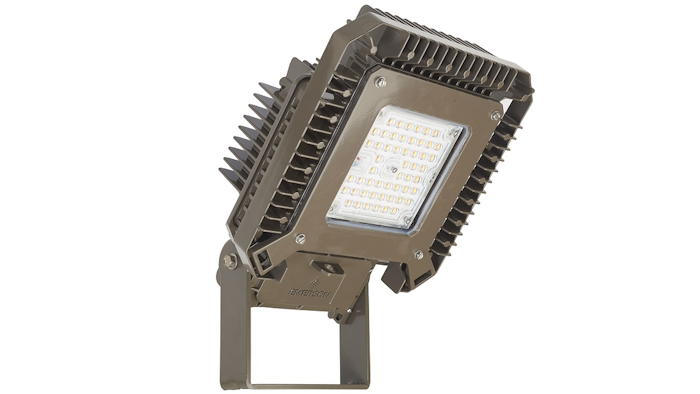 Appleton
Retrofitting HID floodlights with new Areamaster Generation 2 LED floodlights from Appleton (Rosemont, IL) could save companies up to 75% on energy costs, according to the company, while virtually eliminating maintenance burdens and improving worker productivity by providing uniform, high quality light. Additional features include:
A wider selection of beam patterns and color temperatures.
Lumen outputs ranging from 9,000 to 38,000 lumens.
The ability to retrofit existing HID floods from 250W to 1500W. 
The same slip fitters and pole brackets as older Appleton HID floodlights.
A gasketed front wiring compartment.
Up to 10kV surge suppression for installations in Category C high-risk areas.
High-temp silicone gaskets that prevent water ingress and corrosion. 
A patented thermal design for cool operation. 
An operational "on" time exceeding 60,000 hours — 200,000 hours in optimal conditions. 
Replaceable LED drivers that can extend luminaire life even beyond 60,000 hours. 
An operating temperature range from -40°C to +65°C (-40°F to 149°F). 
Optional choice of either cooler 5000K or warmer 3000K color temperatures, as well as secondary optic options for NEMA 7x7, NEMA 7x6 (HID like) and NEMA 5x5 light distribution patterns 
Lumen outputs available for 120-277VAC or 347-480VAC.
A copperfree aluminum diecast housing with architectural bronze polyester powder coat finish for corrosion resistance. 
Certified for Class I Division 2 and Class II hazardous locations.
Rated for use in NEC/CEC installations. 
For more information, visit www.appletonelec.com.