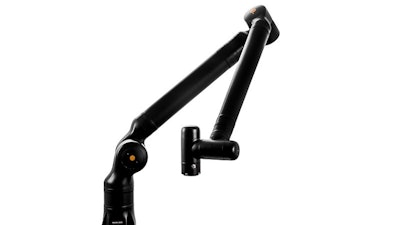 Kassow Robots (Copenhagen, Denmark) is pleased to present the KR1805 industrial cobot to North America. The cobot offers the longest reach in the company's KR series while maintaining a considerable payload.
The 7-axis KR1805 has a payload of 5 kg and a reach of 1800 mm, making it the ideal cobot for completing precise and repetitive industrial tasks that require long reach, such as machine tending, assembly, quality assurance, or pick-and-place tasks.
The unique 7th axis, or "wrist joint," enables continuous dispensing, welding, and material removal applications, regardless of access angle, without the need to reorient the arm. The 7th axis also gives the KR1805 a small footprint (160 x 160 mm), a huge advantage in maneuverability, and an increased range of motion to perform such tasks as bin picking or packaging tasks such as labeling.
The safety-compliant design allows the KR1805 to share a workspace with humans following a safety check at the site where the solution will be implemented.
Weighing just 38 kg, the cobot is easy to relocate to perform tasks in different areas of a facility. Programming is simple with Kassow Robots' specially designed, intuitive user interface. The graphical user interface provides the same kind of intuitive use seen in smartphones, allowing operators at any technical expertise level to program the cobot.