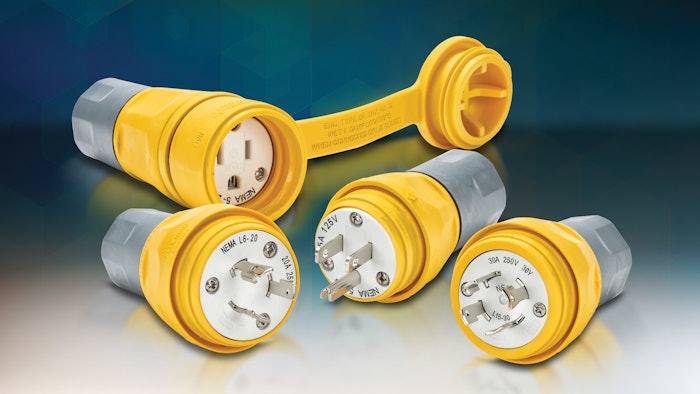 AutomationDirect (Cumming, GA) has announced that new design improvements have been made to its offering of Bryant watertight products to provide additional water ingress protection. Newly offered are ten plugs ranging from 125VAC/15A to 480VAC/30A, 2-pole / 3-wire and 3-pole / 4-wire; ten corresponding connectors for plugs; and a portable outlet box and two covers. These new products are a one for one replacement of currently offered watertight plugs, connectors and accessories. Design improvements include:
A new cone seal that prevents water from accumulating at the cable entrance.
Rugged PBT (Polybutylene terephthalate) interiors, providing excellent resistance to moisture and temperature.
A new Gotcha ring and collapsible bushing design, providing superior strain relief.
Bryant watertight plugs and connectors are recommended where moisture exists or frequent washdown occurs. The watertight components have high-visibility yellow thermoplastic elastomer housings and a tongue and groove plug to connector sealing system for optimum protection.
www.automationdirect.com/watertight-wiring-devices; 770-889-2858