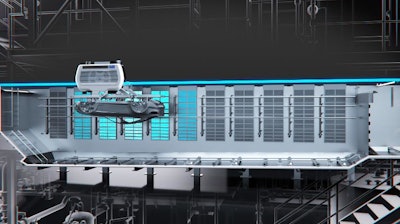 The new EcoDC MACS rectifier for cathodic electrocoating from Dürr (Southfield, MI) provides 50 percent more power with the same space requirement, making it possible to design the layout of new plants more flexibly and easily increase existing plants' capacity. The new rectifier also saves energy and cuts operating and investment costs due to increased efficiency.
Until now, the immersion step of cathodic electrocoating could only be split into a few areas when using conventional thyristor rectifiers. If a rectifier failed, then a big part of the coating current was unavailable, resulting in imperfect coating and an unusable body. This risk no longer exists with EcoDC MACS because Dürr split the previously large thyristor rectifiers into lots of small rectifier modules, each of which supplies voltage to just a small section of the tank. The failure of one rectifier no longer negatively impacts coating quality. Since the smaller units cost just a fraction by comparison, the investment for replacement units is significantly reduced.
Another advantage of the division into many small units is that EcoDC MACS can control small anode groups down to the individual anode. This allows much more precise voltage regulation in the immersion bath and enables optimized voltage profiles – flexibly designed for many body models.
With the new SiC rectifier modules, plant operators are optimally prepared for new requirements arising from future paints possibly requiring higher coating currents or voltages. EcoDC MACS is rated for a higher direct current of up to a maximum of 450 V DC and more current per rectifier mode of up to 120 A DC.