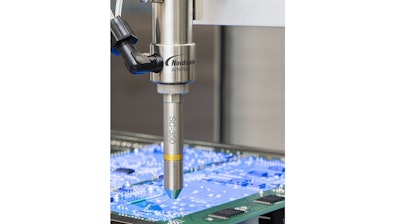 Nordson ASYMTEK (Carlsbad, CA), a Nordson company, offers a powerful array of dispensing and conformal coating systems and valves. These include:
The Vantage Series Fluid Dispensing System for precision packaging and assembly. A new system from the ground up, the Vantage is controlled by Canvas, a completely new dispensing software with graphical programming and guided wizards.
A system designed and constructed specifically for large volume and 2-component dispensing applications, the Helios SD-960 Series (SD-960) handles a broad range of single- and two-component applications including potting, sealing, gasketing and structural adhesives. The system supports highly abrasive thermal interface materials (TIMs), silicones, epoxies and grease.
The Select Coat SL-940 Conformal Coating System, for the highest quality and productivity for automated coating processes, the FX-940 Automated Coating Inspection System and the Select Cure UV-9 Curing Oven. The Select Coat SL-940, coupled with the SC-350 Select Spray atomizing air spray applicator, delivers exceptional edge definition and thin, uniform coating thickness at increased speeds.
EasyCoat 6 software, which provides precise conformal coating with process control, traceability and intuitive visual programming for conformal coating systems.
www.nordsonasymtek.com; 760-431-1919