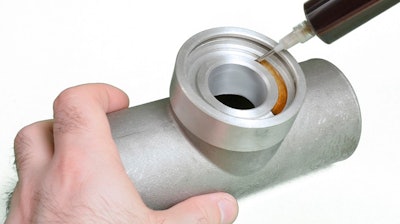 Master Bond (Hackensack, NJ) Supreme 34CA is a high strength structural epoxy adhesive featuring superior resistance to aggressive chemicals such as acids, bases, solvents and oils. Serviceable from -80°F to +500°F, this solvent free formulation has the following features:
A working life of more than 24 hours per 100 gram batch at room temperature.
Good flow properties, a mixed viscosity of 7,000-20,000 cps, a mix ratio of 100 to 50 by weight and cures upon exposure to heat.
The ability to be dispensed manually or via automated dispensing systems.
A tensile lap shear strength >2,500 psi and a tensile strength >12,000 psi. This electrically insulative epoxy has a volume resistivity of >1014 ohm-cm.
A Tg of 200-210°C and a Shore D hardness of >75.
The color of Part A is black and Part B is amber. It is available for use in ½ pint, pint, quart, gallon, 5 gallon pail kits and in gun applicators. Supreme 34CA can be used as a corrosion resistant coating, as well as for bonding, sealing and filament winding applications.
www.masterbond.com; 201-343-8983