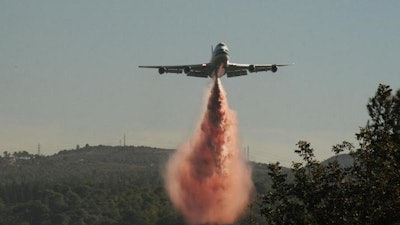 The more than 20 wildfires still burning across Northern California's wine country have reportedly claimed the lives of at least 24 people. It's estimated that more than 3,500 buildings have also been destroyed and an area roughly the size of New York City is now scorched earth. While firefighters and municipalities continue to fight the blaze, officials in the area realized they needed some help.
That support arrived earlier this week in the form of a Boeing 747 jet known as the SuperTanker. The modified jet has been dubbed "the world's biggest fire extinguisher," as it can drop nearly 20,000 gallons of fire retardant in one pass. Earlier this week it made six flights from Sacramento to Napa and Sonoma counties, with each flight lasting an average of 39 minutes.
The California Department of Forestry and Fire Protection called on the Colorado Springs-based SuperTanker, which is operated by Global SuperTanker Services. The plane can reach any location in the continental U.S. within three hours, and disperse a line of retardant up to one mile long.
The SuperTanker has been in service for eight years and been called upon by governments around the world, including Spain, Israel and Chile. This application adds to the history of the 747 aircraft, which first hit the skies in 1970.