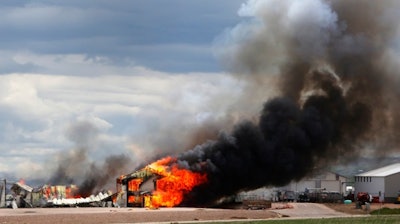 Chris Huber /Rapid City Journal via AP
BOX ELDER, S.D. (AP) — Investigators say the cause of last month's fire that destroyed a South Dakota ammunition plant appears accidental.
The Bureau of Alcohol, Tobacco, Firearms and Explosives says the May 8 fire at the Ultramax Ammunition company in Box Elder started as a result of work being done on the building's heating, ventilation and air conditioning system.
South Dakota Department of Public Safety spokesman Tony Mangan told the Rapid City Journal the state fire marshal, which is still looking into the incident, found the fire appeared to be "accidental in nature."
Firefighters had to pull back from the building after bullets stored inside began exploding. Authorities said the plant had been filed with millions of rounds of ammunition and gun powder.
Several businesses were evacuated but no injuries were reported.
Ultramax was founded in 1986.