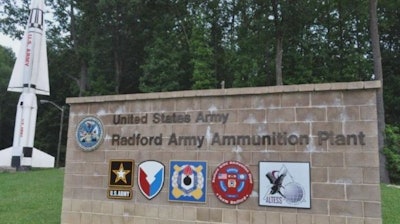 RADFORD, Va. (AP) — Officials say some production is restarting at the Radford Army Ammunition Plant in Virginia after a fire injured three workers this week.
The U.S. Army owns the plant and defense contractor BAE Systems operates it. They said Thursday that officials have determined the facility is ready for a staggered restart, with full production resuming by Monday.
Their news release says an investigation is underway to determine the cause of Monday evening's flash fire.
Three workers were taken to a local hospital, then transferred to a North Carolina hospital. One has been discharged and a hospital spokeswoman said Thursday that two remained in critical condition.
The facility on thousands of acres is one of southwest Virginia's largest employers.