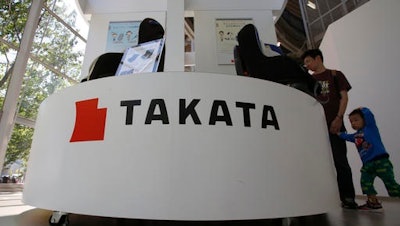 AP file
DETROIT (AP) — Troubled air bag maker Takata Corp. of Japan is selling its automotive interior trim and seating material operation, raising cash as its inflator recall costs continue to mount.
The Japanese company is selling Pontiac, Michigan-based Irvin Automotive Products to Piston Group, an auto parts supplier run by former Detroit Pistons guard Vinnie Johnson. The sale price wasn't disclosed, but Piston Group, based in suburban Detroit, said in a statement Wednesday that Irvin has annual sales of $500 million.
Takata faces billions in costs for what is now the largest auto recall in U.S. history. Its inflators can explode with too much force, spewing shrapnel. They've been linked to at least 15 deaths and more than 100 injuries worldwide. The company is recalling 69 million inflators in the U.S. and around 100 million across the globe.
In August, Takata reported a second-quarter profit of 2 billion yen ($19.8 million), down 33 percent from the same period the previous year. Tokyo-based Takata, which had two straight years of losses over the recalls, has said it will return to the black this fiscal year, although some analysts note that recall costs now being paid by automakers eventually will be billed to Takata.
Takata also faces class-action lawsuits and possible government fines over its defective air bag inflators.
Takata has hired the advisory firm Lazard to engineer a restructuring of its finances, likely with the help of some of its biggest customers. An air bag analyst has estimated the cost of making and distributing replacement inflators could cost more than $20 billion.
Honda, Toyota and Fiat Chrysler are among the biggest customers for Takata inflators. In all, 17 automakers are affected by the recalls. Many automakers have said they will stop using Takata air bag inflators in models under development, and they will be billing Takata for the recall costs.
Analysts expect Takata to go through a bankruptcy restructuring to shed some recall costs, with investors taking control of the company and changing its management.