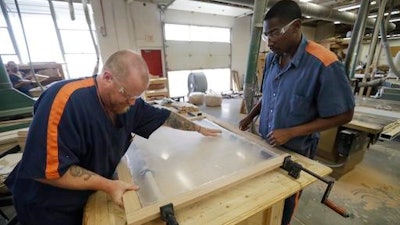 AP Photo/Carlos Osorio
IONIA, Mich. (AP) — Few states have been more aggressive in releasing inmates and diverting offenders than Michigan, where a decade ago, 1 out of every 200 people was in prison, and penal costs were beginning to crowd out basic government services.
After easing parole policies, the state managed to cut its 51,000-plus prison population by about 18 percent. But costs kept surpassing $2 billion a year, in part because too many freed inmates came back after committing new crimes or violating parole or probation rules.
Now Michigan is trying to stop the boomerang effect with a new program that removes soon-to-be-released inmates from the general population and assigns them to an exclusive "vocational village" for job training. The idea is to send them out through the prison gates with marketable skills that lead to a stable job, the kind that will them out trouble long term.
Corrections officials have also ramped up their marketing efforts — attending manufacturing expos to tout inmates' credentials, coordinating with local workforce-development agencies and inviting business leaders behind prison walls to conduct job interviews.
In the village, inmates have "some protection and isolation from the pressures of the rest of the prison compound," state Corrections Director Heidi Washington said. "They are up every day when they're supposed to be, and they're engaged in learning and perfecting their skill or their trade all day long."
The system marks a turnabout for a Republican-controlled state where the get-tough approach has prevailed for years. But pressure has been growing to punish criminals without punishing taxpayers.
Although Michigan has tried vocational programs in the past, officials believe the opportunities for inmate employment are greater these days because the state's skilled tradesmen are getting older or left during the Great Recession, and the workforce has tightened in an improving economy. A state website projects nearly 1,600 annual openings for truck drivers, more than 1,100 for machinists and almost 700 for industrial machinery mechanics.
"This is the best time, when you have an economy that's growing and you have 100,000 open jobs in the state or more," Gov. Rick Snyder said in an interview.
Each year, Michigan releases 10,000 prisoners, but repeat offenders make up nearly 40 percent of those entering the system. That is despite a successful anti-recidivism initiative that was launched more than a decade ago but was cut back in recent years to save money.
Too many programs "keep people busy but don't really lead to marketable skills or certificates that would allow individuals to get employment on the outside," said Lois Davis, a senior policy researcher for the Rand Corp. who studies prison education and job training programs. A 2013 Rand study found that prisoners receiving educational training were 43 percent less likely to reoffend than those who did not.
Jesse Torrez, 41, is among the prisoners who were admitted to vocational housing at the Richard A. Handlon Correctional Facility in Ionia, about 110 miles northwest of Detroit. There, the inmates receive full days of training in high-demand skills such as welding, machining and carpentry.
Torrez, who is imprisoned for unarmed robbery, served two previous prison terms. Each time after release, he said, he reverted to "drinking and drugging" when he could not find steady work. If he lied about his criminal record, the employer would inevitably find out and fire him.
"It was just real tough, due to my past, which I created and am totally accountable for," said Torrez, a father of five who is hoping to be paroled in 2017 and is being trained in construction trades.
He said he has a job waiting for him with a manufacturer.
The vocational push is being driven by Washington, the reform-minded corrections director who took over last year after 17 years at the agency. She revived an inactive automotive-repair program at the Ionia prison, created new plumbing and electrical schooling, and expanded welding and machining offerings. Days are designed to simulate a regular work schedule, not just a few hours of classes.
It is not enough to have the right technical skills, she said. Inmates "need to understand that an employer needs to rely on you — every day, all day. You need to be accountable to be a producer."
The 225 inmates in the program comprise just a fraction of those paroled annually, but the Republican governor and legislators recently committed more money to launch a second vocational village. Total prison education spending is up nearly $8 million, or 27 percent, from when the governor took office in 2011.
Some executives are now open to employing ex-cons, saying it can be smart business.
"We see an untapped talent pool here," said Mark Miller, president and CEO of Cascade Engineering Inc. in Grand Rapids, which makes automotive parts, trash carts, storage containers and other goods.
Cascade does not ask job applicants about their crimes until they have been extended an offer. Depending on the job, inmates can make between $11.60 to start and $15.15 an hour within a year.
Efforts are underway to lobby 30 other local employers to hire two ex-offenders each and monitor their progress.
Third-time inmate Chris Chavanne, 34, recently landed a construction job upon his release. He robbed a bank when he was 16.
"I feel like I've learned enough to stay the heck out the way and go on to be successful," Chavanne said. "I do feel more equipped and more confident to do something better than what I was doing."
___