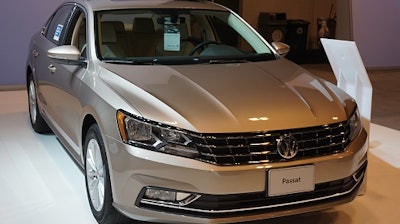 Wikimedia
NASHVILLE, Tenn. (AP) — Volkswagen on Thursday challenged a National Labor Relations Board ruling allowing a small group of employees at the German automaker's lone U.S. plant to be represented by the United Auto Workers union.
Volkswagen's appeal, filed in the U.S. Court of Appeals for the District of Columbia Circuit, comes a day after the NLRB ruled that the company was engaging in unfair labor practices by refusing to bargain with the union.
The board said earlier this year that the skilled-trades workers who maintain and repair machinery and robots at the plant "share a community of interest" in terms of qualifications, training, supervision and hours that are distinct from production workers at the facility's assembly, body weld and paint shops.
Volkswagen has argued that labor decisions should only be made by the plant's entire hourly workforce of 1,400 hourly employees, which had narrowly rejected UAW representation in 2014 election.
"Volkswagen respects the right of all of our employees to decide the question of union representation," company spokesman Scott Wilson said in a statement. "This is why we disagree with the decision to separate Volkswagen maintenance and production workers."
UAW Secretary-Treasurer Gary Casteel called the appeal "nothing more than a stall tactic to try to delay the inevitable."
"It's overdue time for the company to meet the local union at the bargaining table," he said.
Casteel has criticized Volkswagen for sharpening its anti-UAW stance as the company tries to cope with the fallout from its diesel emissions cheating scandal.
The NLRB's decision to allow Volkswagen's skilled-trades workers to seek union representation draws on the board's landmark 2011 ruling in favor of certified nursing assistants at Specialty Healthcare and Rehabilitation Center of Mobile, Alabama, that paved the way for the formation of more of what labor opponents deride as "micro units."
In that case, the nurses sought to create a 53-person bargaining unit represented by the United Steelworkers at the exclusion of other workers at the home. That ruling was upheld by the 6th Circuit Court of Appeals in 2013.
The UAW has been thwarted for decades in its efforts to organize workers at foreign-owned auto plants in the South. Republican politicians in Tennessee and across the region are keen to keep it that way.
Volkswagen has been seen as the UAW's best chance because of the strong labor presence on the company's supervisory board. The company's hardball tactics against the UAW have come as a surprise to many worker representatives in Germany.