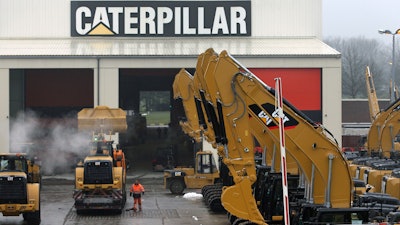 AP Photo/Yves Logghe, File
BRUSSELS (AP) — U.S. heavy equipment maker Caterpillar said Friday it may close a Belgian manufacturing site and lay off about 2,000 workers, an announcement met with dismay and alarm by employees and the government.
In a post on its corporate website, Caterpillar said that in line with its September 2015 global restructuring plan, it was considering shifting production of construction equipment now at its Gosselies site to Grenoble, France, and other facilities outside Europe.
"If this intention would be confirmed, it would result in a collective layoff of about 2,000 employees and in the closure of the Gosselies site," the company said.
Prime Minister Charles Michel and Economy Minister Kris Peeters were expected to attend an emergency meeting with leaders of the Wallonia regional government, home to the Gosselies site. Paul Magnette, leader of the regional government, sought meetings with unions and company management.
Magnette told local media Friday he was scandalized by Caterpillar's announcement since the Gosselies site had been given government financial support.