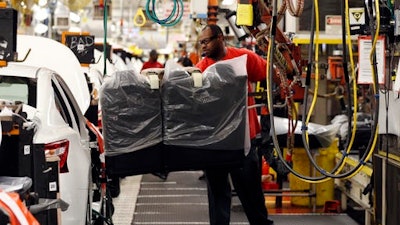 AP Photo/Rogelio V. Solis
WASHINGTON (AP) — U.S. factories cranked out more autos, machinery and chemicals in July, lifting production by the most in a year.
The Federal Reserve said Tuesday that factory output grew 0.5 percent in July, after a 0.3 percent gain in June.
Overall industrial production, which includes utilities and mining, expanded 0.7 percent. That is the biggest increase since November 2014.
Utilities output jumped 2.1 percent as hotter-than-usual weather boosted air conditioning use. Mining activity rose 0.7 percent, its third straight gain.
The figures suggest that U.S. manufacturing may be turning a corner after struggling to overcome the impact of a stronger dollar, slower overseas growth and falling oil prices. Still, factory output is just 0.2 percent higher than it was a year ago. And even as output ticks up, manufacturers aren't adding many jobs.
A rise last year in the dollar's value has made U.S. exports more expensive overseas and lowered the price of competing imports. That's cut into American manufacturers' export sales. Businesses have been cautious this year about investing in new machinery and equipment, which has also weighed on manufacturers.
Still, there have been other signs of a tentative rebound.
Manufacturing has been expanding, though sluggishly, for five months, according to a survey by the Institute for Supply Management, a trade group. That followed five months of contraction.
Yet new orders received by factories fell 1.5 percent in June, the Commerce Department said, pushed down by a sharp fall in commercial aircraft demand, a volatile category. A separate category of orders that reflects business' investment plans ticked up in June after two straight declines.
Through the first six months of this year, factory orders are 2.6 percent behind last year's total.
Even as there are signs of improvement, hiring has been weak. Manufacturers are likely still reaping the benefits of automation and other productivity enhancements, allowing them to produce more without adding jobs.
The ISM's survey found that manufacturers cut jobs in July, for the third time in the past four months. In the past year, manufacturers have shed 30,000 jobs.