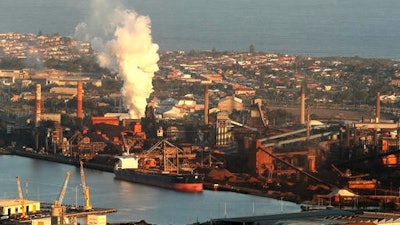 AP Photo/Rob Griffith, File
CANBERRA, Australia (AP) — The world's biggest miner, BHP Billiton, on Tuesday reported a $6.4 billion loss — the Anglo-Australian company's worst ever full-year result — resulting from weak commodity prices, a plunge in the value of its U.S. shale oil assets and a costly dam disaster in Brazil.
BHP said its revenue sank 31 percent in the fiscal year ending June 30, to $30.1 billion. It also took $4.9 billion in write downs of its U.S. oil and gas assets.
BHP chief executive Andrew Mackenzie said the year was a difficult one for his company and the resource industry.
"We're clearly really disappointed with this result," said Mackenzie. But he noted that another performance measure, Earnings Before Interest, Taxes, Depreciation and Amortization — or EBITDA — "remained healthy" at $12.3 billion.
"We are pleased by the strong cash generation of our assets which has resulted in a free cash flow of $3.4 billion," he said.
BHP posted a $1.9 billion profit in the previous year, which was 14 percent of the $13.8 billion profit for 2013-14.
The latest result is the worst since the company headquartered in Melbourne, Australia, was formed in 2001 through the merger of two corporations founded in the 19th century — Australia's Broken Hill Proprietary Co. Ltd. and London-listed Billiton Plc.
In 2010-11, it posted its best results ever of $23.6 billion.
Weaker commodity prices, which have gutted profits of many global resource companies including big Japanese trading houses, cost the company $10.7 billion last year.
A dam failure in November at an iron ore mine co-owned by BHP and Vale in Brazil killed 19 people and caused the worst environmental disaster in the country's history. Brazil's Federal Public Prosecution launched a $43 billion civil suit in May for the disaster, against the joint venture Samarco. BHP has agreed to an initial payment of up to $1.3 billion to clean toxic pollution from the Doce River.
The Samarco dam failure cost the company $2.2 billion for the year.
BHP chief financial officer Peter Beavan said the Samarco mine could possibly be reopened, but not this year.
Gaurau Sodhi, a resource expert with Sydney-based share analysis firm Intelligent Investor, said BHP really needs oil prices to rise to post a better result in the current fiscal year.
"The oil division is where a lot of money has been spent in the past. It's where the bulk of their assets lie and it's really the oil price that will determine how good or bad the next results will be from here," Sodhi told Australian Broadcasting Corp.
Oil prices fell by 47 percent in 2015, taking a huge toll.
The World Bank has raised its 2016 forecast for crude oil prices to $41 per barrel from an earlier estimate of $37 per barrel, anticipating a recovery in demand. On Tuesday, Brent crude, which is used to price international oils, was trading at about $48 a barrel.
But the outlook for most other major commodities remains uncertain, given the slowdown in China, whose industrial boom over the past few decades has driven much of the growth in demand.