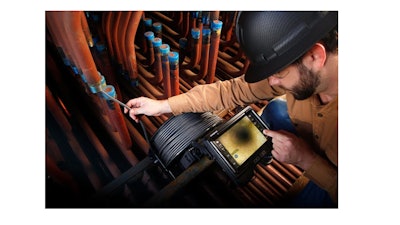 Enabling fast, easy and accurate long-distance inspections, the IPLEX GAir long videoscope solution from Olympus (Waltham, MA) combines maneuverability with high-quality, wide-view images to make complex pipe inspections fast and efficient.
The interior of pipelines that carry hazardous material are inspected for corrosion and other defects using videoscopes. Long, complex piping is especially difficult to navigate and inspect because of complex bends and potential obstructions. The IPLEX GAir long scope solution solves these challenges with a combination of pneumatic articulation that enables maneuverability at distances up to 30 meters with outstanding image quality.
To reach the inspection target quickly, the videoscope's unique guide head enables it to slide easily through pipe joints while pneumatic articulation provides fine control, even when the 30 m (98 ft) insertion tube is fully extended. To enable easy inspection, a gravity sensor automatically rotates the onscreen image regardless of the scope's orientation, while the insertion length indicator tracks how far the videoscope has been extended.
www.olympus-ims.com; 781-419-3900