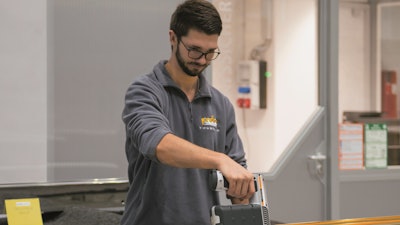 Hand held, desktop and automated, Fischer's (Windsor, CT) latest instrument is its most versatile yet. It offers:
Precise coating thickness measurement and material analysis, especially for difficult material combinations, multilayer coatings and alloys (e.g. ZnNi on Fe).
Used as a handheld device, it is ideal for measuring the coatings on bulky parts like landing gear, car fenders, pipes, turbine blades, brake parts - it can do so in in process production.
But this handy instrument is not limited to large-scale measuring tasks, with the optional measurement box, the XAN 500 becomes a full-fledged desktop instrument for quick and reliable testing small parts. The XAN 500 is also suited for use in automated quality assurance; it can be integrated right into a production line, enabling continuous quality control – making the XAN 500 is the most versatile X-ray fluorescence instrument on the market.
Visit Fischer at SUR/FIN booth #321.
www.fischer-technology.com; 800-243-8417