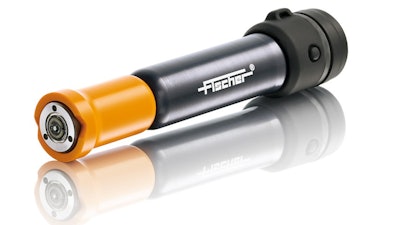 Application in the field requires flexibility, as many different coatings need to be tested. The pen-like PHASCOPE PAINT is Fischer's (Windsor, CT) newest mobile measurement instrument using the versatile eddy current method. For example, paint coatings can be measured on magnetizable substrates such as steel or iron, as well as on non-magnetic metals such as aluminum – without the need to switch the device or the probe. This handy device is designed for fast and easy coating thickness measurement and uses an App for the data analysis. Specifically:
When testing on samples of different aluminum alloys, the different conductivities of the metal can have an effect on the measurement of the coating thickness. The PHASCOPE PAINT has a conductivity compensation feature, which ensures accurate measurement results. This versatility allows for a wide variety of applications, from the automotive industry to heavy corrosion protection.
Thanks to the very large measuring range up to 98 mils, it is particularly well-suited for very thick coatings.
It takes advantage of the computing power already in your pocket: the readings are analyzed and reported using a simple app for a smartphone or tablet.
www.fischer-technology.com; 860-683-0781