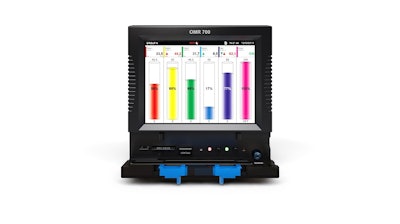 Bristol Instruments (Boston, MA) introduces the OMR700 digital chart recorder. This instrument is available with up to 96 input channels and can record from two hours to 132 years of data — depending on the number of channels and frequency of data acquisition. Operated from a 5.7 in. color touchscreen display, the OMR700 is a paperless recorder with intuitive controls. It can also be operated from buttons behind a front panel as well as a USB keyboard and mouse that can be connected. The display is sealed against ingress to IP64 and an optional housing is available rated at IP67. Additional features include the following:
Data can be displayed as bar graphs, line graphs, numeric or bar graphs with corresponding numeric values. Data recording rate is as fast as 1 ms and can be set as infrequently as 10 min.

Input or output modules can be mixed and matched in the eight available I-O slots. I-O cards for the OMR700 have up to 12 analog inputs per module. Up to four analog outputs or 10 digital outputs per module can be accommodated and data outputs are another option.
The OMR 700 recorder can be connected to a PC through 10/100BaseT Ethernet.

OMR 700 analog input types include,eight DC voltage ranges, four DC current ranges, AC voltage, current, power and frequency inputs, Pt, Ni and Cu RTDs, nine thermocouple input types including J and K as well as strain gauge inputs. Accuracy for analog inputs is as tight as ± 0.15% of range—depending on card type. Digital inputs include 12 to 30 V, frequency and up/down counters. Counters measure as wide a range as 0.1 Hz to 1 MHz.
The OMR700 paperless recorder accepts supplied power between 80 to 250 V AC/DC. All analog modules are fully isolated from the internal bus and some are galvanically isolated between channels as well as outputs.
www.bristolinstruments.com/OMR700; 877-866-8500