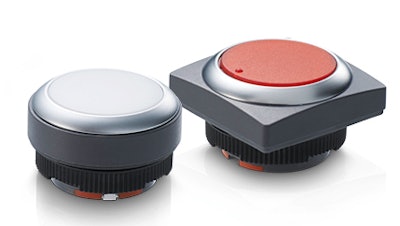 RAFI USA (Lynnwood, WA) has expanded its low-profile, modular control component family. The advanced RAFIX 22 FS+ control component series offers a modern and variable design concept that enables designers to individually adapt control components to customize a control panel. The 9.2mm behind-the-panel depth for the activation elements enables slender product casing solutions. The RAFIX FS 22+ product line includes:
Ring illumination options in a broad range of colors.
A tactile version that offers more precise haptic responses.
Illuminated and non-illuminated push-buttons, rotary selectors, keylocks, and E-stop pushbuttons.
Signal indicators, potentiometer actuators, and robust USB feed-throughs.
A minimum IP65 protection.
Special tactile feedback available for applications with specific haptic requirements like those where operators wear gloves.
All actuating elements in this series interchangeable with series switching elements.
Round or square actuator shapes with interchangeable front rings available in various colors and with different surfaces.
Actuators can be ideally combined with other electronic components, as well as with short-travel key switches, on a shared PCB.
3 mm THT LEDs or SMT LEDs that can be used for the homogeneous illumination of control components.
Lamps and PCB contact blocks are set onto the base PCB.
PCB contact blocks available with gold contacts for low voltages of 5 V to 35 V, or with silver contacts for voltages up to a maximum of 250 V.
For more information, visit: http://www.rafi.de/en/products/components/rafix-control-components/rafix-22-fs/