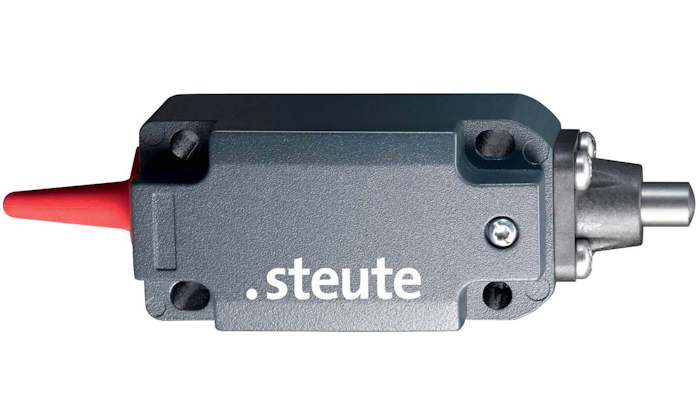 Steute Industrial Controls
Steute Industrial Controls (Ridgefield, CT) offers a comprehensive line of Wireless, Batteryless Limit Switches that feature an internal electrodynamic energy generator. The displacement of the actuator generates the power to send a uniquely coded signal to one or more compatible, easily-programmed receivers. Features include:
A confirmation signal within 15 ms — if not, it transmits a second signal. 
A receiver that accepts up to 10 discrete signals per channel.
Available at 915 MHz (USA/Canada/Australia) or 868 MHz (Europe).
A max transmission range of 40 m indoors, 450 m outdoors.
Limit switch signal configurable at receiver (e.g.  NO, NC, other).
Ingress protection rating to IP67.
A mechanical life expectancy of >1 million actuations.
Operating temperature range from -20°C to + 65°C.
Certifications: FCC, IC (for SW915 MHz models), EC (for 868 MHz models).
Optional variety of actuator styles (e.g. roller plunger, roller lever, rocker lever, spring rod, others), and transmission range extenders.
For more information, visit www.steutewireless.com; or call (203) 244-6304.