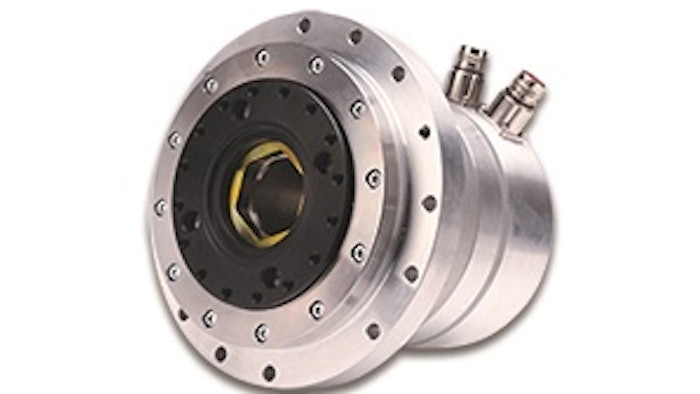 Harmonic Drive LLC (Peabody, MA) introduces FHA-C-H series actuators. Available in four sizes, these new super-flat actuators are well suited for machine tool, packaging and wash-down applications. FHA-C-H rotary servo actuators utilize Harmonic Drive precision gears, combined with a performance matched brushless servo motor, and the series is designed to operate with a wide range of third-party servo drives including Bosch, Mitsubishi, Siemens and Kollmorgen. The FHA has a low-profile form factor and features a hollow-output shaft. This hollow shaft feature may be used to pass cables, tubing or lasers through the axis of rotation. Gear Ratios of 50:1, 100:1, and 160:1 are available in each of the four sizes, offering the machine designer a wide selection of speed and torque specifications. Like all Harmonic Drive actuators, the FHA-C-H actuators are highly reliable and maintain zero backlash for the life of the gear. New FHA-C-H features include:
IP65 Rating.

480VAC.
EnDat & HIPERFACE Encoder Protocols.
DESINA style flex rated cables.
www.harmonicdrive.net; 978-532-1800