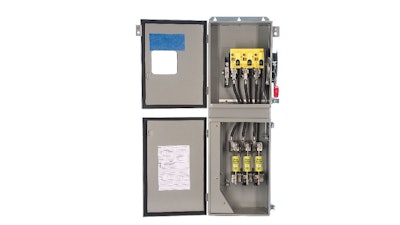 Eaton (Raleigh, NC) offers their double-door, line-side isolation switch – the industry's first compartmentalized, fusible safety switch. Features include:
A two-door design with an internal barrier that isolates the fuse base from line-side power, enhancing the safety of work environments for equipment operators.

The ability to observe the position of the movable blades within the switch base via a viewing window and visible blade components for seeing whether the circuit is open or closed.

The doors cannot be opened when the switch is energized, as an interlocking mechanism keeps the door closed when the handle is in the ON position.
Line isolation can be maintained from incoming line-side cables within the fuse compartment.
A barriered wireway for bottom feed applications can be removed for top exit.

Screw-down fasteners on the upper switch compartment add an extra layer of safety, while an optional lower viewing window provides visibility into fuses with blown fuse indicators.

Can handle 30 to 1,200 amps and 240 to 600 VAC.